Pioneer Ave Trick-or-Treat!
🎃 Get Ready for a Spooktacular Treat: Pioneer Ave Trick or Treat is Back! 🎃
The wait is over! Pioneer Ave Trick or Treat is making a grand return, and we're gearing up to make this year's event even more thrilling than the last. Get your costumes ready, gather your little ghouls and goblins, and prepare for a day of delightful scares and sweet treasures.
🍬 Planning Has Commenced: Our team is hard at work, brewing up a cauldron of enchanting surprises for you. From creative decorations to interactive experiences, we're crafting an unforgettable Halloween adventure that will leave you and your family in awe.
🎉 Better Than the Last: We heard your excitement from the previous year, and we're taking your feedback to heart. Brace yourself for an event that's bigger and packed with more treats than ever before. You won't want to miss the magic we have in store for you.
Keep an eye out for further details as we unveil the secrets behind this year's Pioneer Ave Trick or Treat. We're conjuring up an event that will thrill both the young and the young at heart.
🗓️ Date: October 31, 2023
🕒 Time:4:00PM-6:00PM
📍 Location: Pioneer Ave and Beyond
Stay tuned for updates, sneak peeks, and a peek into the ghoulish surprises that await. Get ready for an unforgettable Halloween experience that will have you howling for more!
🎃👻 See you on Pioneer Ave soon! 👻🎃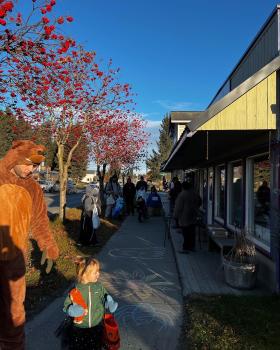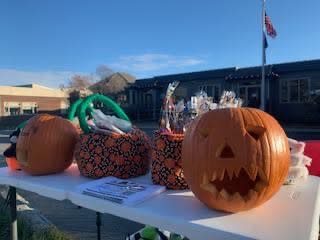 Thank you again to all of the businesses who participated in our First Annual Pioneer Ave Trick or Treat: 2022
VBS Heating, South Peninsula Hospital Functional Medicine Clinic (At Home Health Site), Art Shop Gallery, North Wind Home Collection, Twisted Goat, Young's Saplings, Divinitea, Homer Theatre, NOMAR, United States Coast Guard, Alice's Champagne Palace, First American Title Insurance Company, Captain's Coffee, Salvation Army, Cycle Logical, Bay Realty, Homer Bookstore, The Grog Shop, The Classic Cook, LazerPrint & Graphics, Dr. Richardson's DMD, Homer Truffle Co, All State, AC/DC Electrical Supply, Coastline Insurance Agency, Horizon Satellite, Alibi Bar & Café, Ptarmigan Arts, Fireweed Gallery, Homer Senior Citizens Center, Thai Cosmic Kitchen, City of Homer, Kenai Peninsula College, Homer's Jeans, Oodalally, Homer Real Estate, Homer Fire Department, Kachemak Bay Animal Hospital, Summit Physical Therapy, Changing Tides Therapy, Flying Whale Coffee, Subway, Homer Art & Frame, Berkshire Hathaway, Homer Dental Center, Homer Public Library, Homer Rocks.