Recreation and adventure are outside your door year-round in the Kachemak Bay area, and 24-hours a day in the summer.
There are many options from which to choose. You can stroll a sunlit beach, hike up a mountain, kayak by a glacier or in a protected cove. Tour by land, air or sea; horseback, four-wheeler, or sail the wind - on the water or above the hills.
Or choose close encounters with wildlife, such as bears and sea creatures, in their own habitat. Homer provides a variety of exciting recreational adventures for everyone.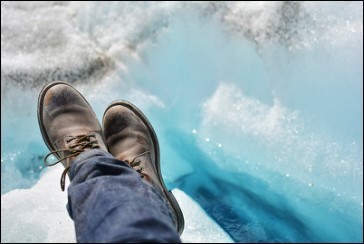 Parks, Refuges, and Trails in Homer, Alaska
Homer may be the end of the road but it is the starting place for many wilderness adventures in a variety of public land settings. The largest wildlife refuge in Alaska, the Alaska Maritime National Wildlife Refuge is headquartered in Homer, offering bird viewing and experiences unmatched anywhere else.
A short flight over beautiful scenery will take visitors to Katmai and Lake Clark National Parks, pristine wilderness, and prime brown bear viewing areas. By water taxi, you can enjoy the views of mountains, glaciers and marine wildlife as you cross to Kachemak Bay State Park.
Over 90 miles of managed trails of all skill levels run near the coast, by glacier lakes and inland up ridges providing a variety of hiking options. Trails with a variety of scenery are located in and near Homer.
Wildlife & Adventure on the Kenai
At "The End of the Road"... The Adventure Begins! Homer has wildlife viewing and adventures for all ages and interests. Homer is a gateway to many National and State Parks including Katmai, Lake Clark, McNeil River, and Kachemak Bay.
Few places match the diverse beauty of Homer, having so many ways to experience and view the variety of abundant wildlife. One day you can be kayaking on beautiful Kachemak Bay with its rising cliffs, calm coves, seals, sea otters, and whales. The next day you could be standing on the rugged coast of the Alaska Peninsula, or in Brooks Camp in Katmai National Park on your first bear viewing trip watching as these majestic monarchs feast on salmon.
A trip deep into brown bear country is definitely one of the most rewarding and memorable trips of a lifetime. June through late September, brown bear congregate on coastal sedge flats and streams in the vast wilderness of Katmai National Park and Lake Clark National Preserve. A wide variety of bear viewing experiences are available from several companies. You can fly over for a day or stay in a lodge or guided campground for a longer period. You can even stay on board a boat, going ashore during the day. Whatever you choose, your time with the bears will be among your most often told stories when you return home.
During a walk in the woods on one of the many Kachemak Bay trails, you may encounter moose, black or brown bear, and perhaps rabbits, fox, or porcupines. You will see many species of birds, including eagles and sandhill cranes. Moose sightings are frequent and are often seen on Homer streets with calves by their side. By air or sea, there are many charter and tour companies that will take you deeper into the wilds to have a glimpse, or perhaps a close encounter. Operators can take you out on Kachemak Bay where you may observe marine mammals (seals, sea otters, porpoises, and whales) and numerous species of sea birds (including horned and tufted puffins and red-faced cormorants).
Beluga Slough, Beluga Lake, and the mudflats offer great opportunities to watch waterfowl and shorebirds. In the waters off the Spit and in the harbor, scoters, grebes, and loons are common, and eiders are sometimes seen.
Extend your visit to experience where the road ends and your adventure just begins!
Sea kayaking in Kachemak Bay has gained tremendous popularity over the years. Kayaking is a healthy recreation for body, mind, and soul, and a way to discover the wonders of the Bay.
You can take a water taxi to secluded paddling areas in one of the many coves and bays located across Kachemak Bay. Guides and instructors are available from several outfitters to ensure your safety and lend their expertise regarding the tides and currents of the Bay.
Even if you have never handled a paddle before, you will feel right at home.