Local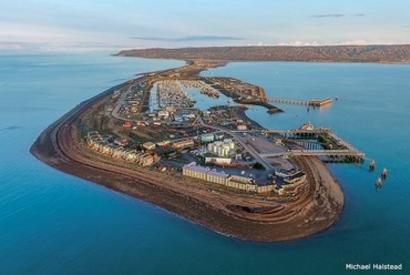 Quality of life rarely found in one location: endless opportunities for outdoor recreation, arts, culture - a great place to raise kids and a profound sense of community.
The City of Homer was established as a first-class municipality in March 1964. Named for Homer Pennock, a con man who arrived in 1896 and lured others to the Homer area with promises of gold, today genuine treasures attract people to live and work in Homer.
The southernmost town on the state's highway system, four hours south of Anchorage on the southern tip of the Kenai Peninsula, Homer is variously described as "where the land ends and the sea begins," "the cosmic hamlet by the sea," an arts community, and a fishing community. Each description captures a part of Homer's enduring character: creative, rich in maritime and homesteading traditions, committed to the environment, engaged, and independent.
Common to every description is an acknowledgment that Homer is situated in one of the most beautiful places in the world, with spectacular views of Kachemak Bay, the Kenai Mountains, and several volcanic peaks across Cook Inlet including Mt. Augustine, Mt. Iliamna, and Mt. Redoubt reaching to over 10,000 feet.
Homer is also famous for the Homer Spit, a 4.5-mile natural finger of land extending into Kachemak Bay. Accommodating Homer's port facilities and a small boat harbor, it is a vital component of the local economy supporting both the marine trades industry and commercial fishing. Homer lands more halibut than any other port in the world, earning Homer yet another title, "Halibut Capital of the World."
The Spit also supports Homer's burgeoning tourism trade. Its numerous shops, restaurants, campgrounds, lodgings, charter fishing, water taxi, adventure, and eco-tourism businesses are a beehive of activity during the summer months.
Rounding out Homer's economic drivers are healthcare services, the arts, and independent farm growers, all contributing to Homer's economic diversity and extraordinary quality of life.
Homer is widely acknowledged to have the best arts scene and the best restaurants of any small town in Alaska. Many of these businesses are located on Pioneer Avenue in the heart of the City, where an abundance of peonies grace both gardens and public murals; or in historic "Old Town" on the shores of Bishop's Beach.
Homer prides itself on being an ambitious, forward-thinking community that embraces responsible economic development. Major goals for the next decade include expanding Homer's port facilities to support the region's growing maritime industries and developing thirty acres in the heart of Homer as a new and vibrant Town Center.
Since 2000, the city has added residents at an average rate of 0.6 percent annually for a total population of about 5,300 in 2015. Births, and in-migration of new residents, primarily families, and senior citizens, account for the population growth.
While Homer is not a retirement community, it is popular for retiree living, both year-round and seasonally. Alaska's senior population has been growing faster than in any other U.S. state, with the Kenai Peninsula's growth rate leading the way at 11.33%.
New residents, who can live anywhere they want, choose Homer partly for its beauty; partly for outstanding arts, culture, education, and recreation opportunities. Mostly, they choose Homer because people here are friendly, outgoing, and welcoming.
Homer boasts an overall low cost of living (for Alaska living) and superior schools. Residents enjoy year-round outdoor recreation opportunities that include fishing, hiking, skiing, kayaking, hunting, snow-machining, birding, kite-surfing, and more. A diversity of arts, cultural, and recreational activities throughout the year make Homer welcoming and makes time with family and friends extraordinarily enjoyable.
Homer is a caring community. Many residents are committed to making Homer a better place and give generously of their time and talents to contribute to the overall quality of life. Civic, non-profit and grassroots efforts bring neighbors together to help those less fortunate, create solutions for sharing, and complete civic projects.