Homer 2nd Annual Peony Celebration
Celebrate Summer in Homer, The City of Peonies, with farm tours, art classes, gallery exhibitions, workshops and a self-guided tours.
Homer's cool, misty seaside hillsides and fields offer the perfect growing conditions for growing this fantastic, popular, fragrant flower.
Did you know the petals are edible?!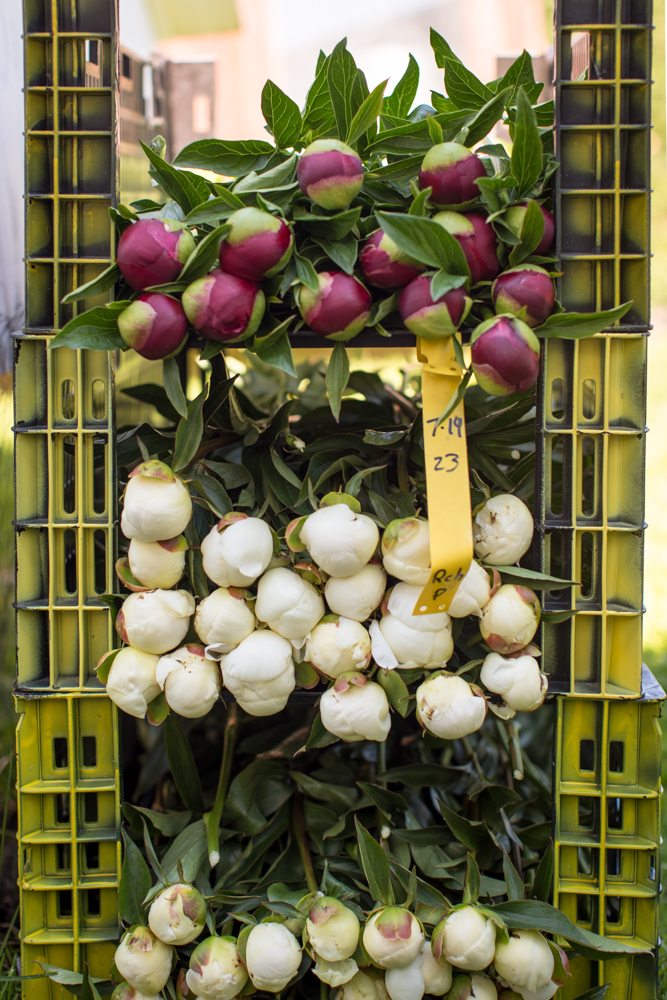 Homer is proud to have 25 Peony farms and to welcome all to join us in celebrating the beautiful, fragrant blooms!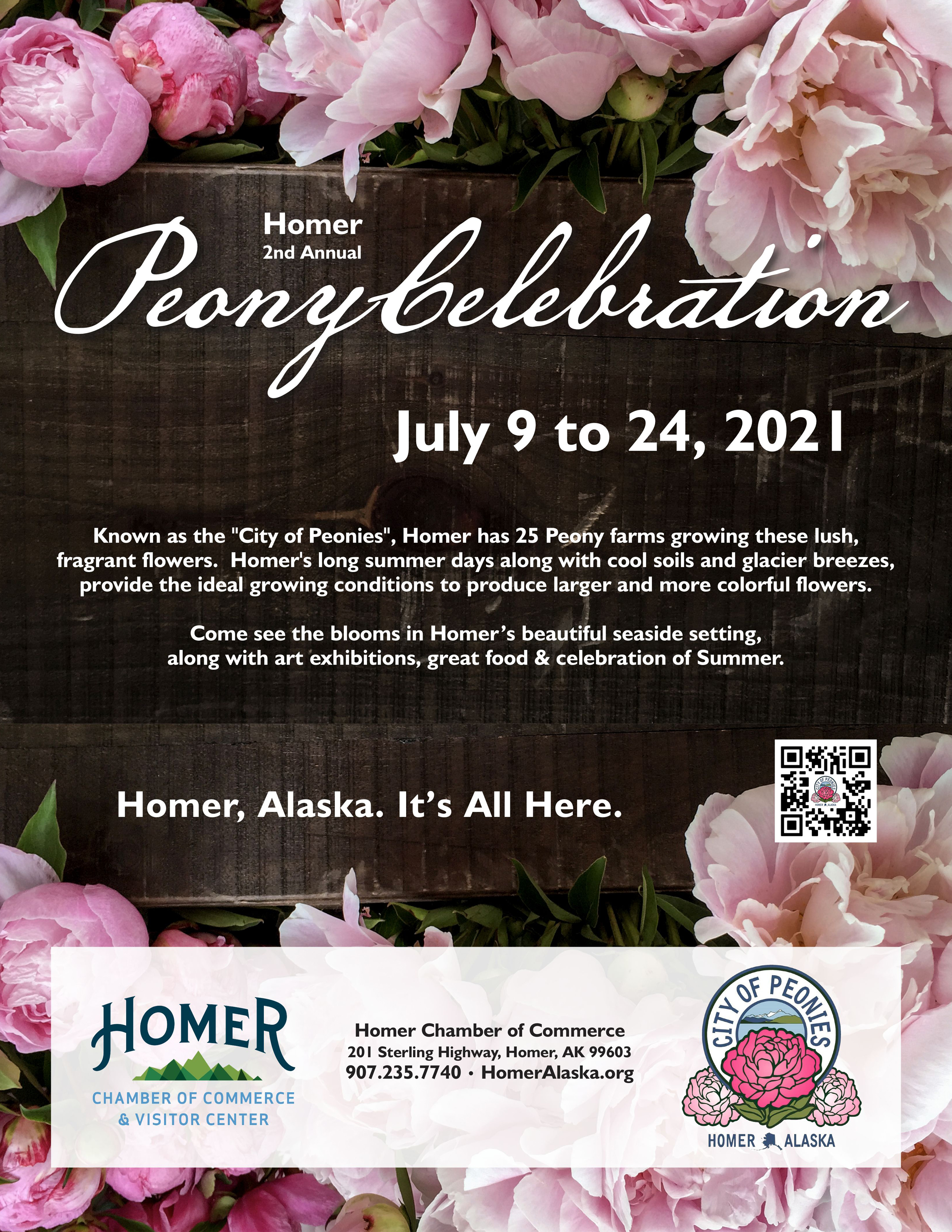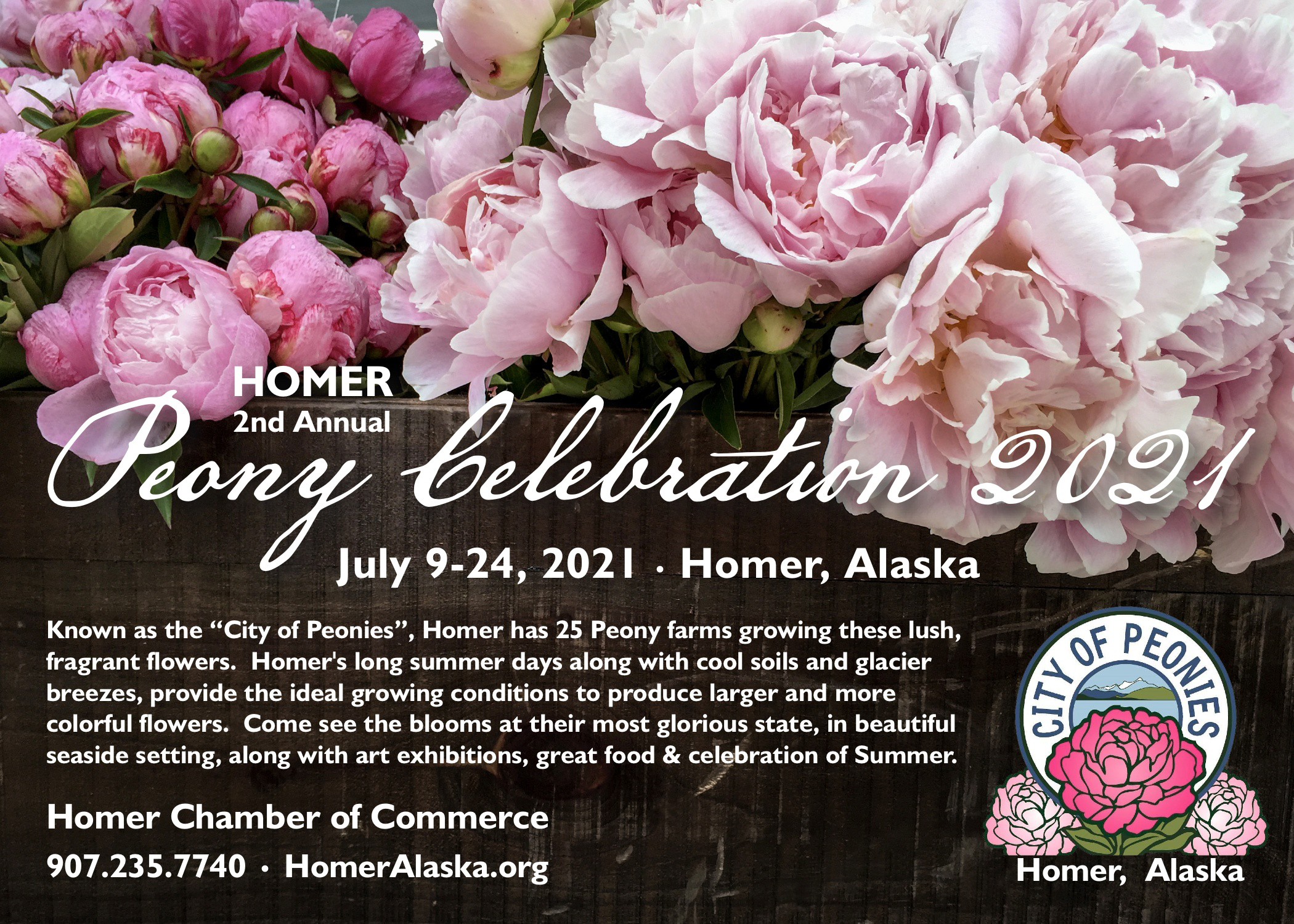 Download Sponsorship Form HERE
PEONY CELBRATION FAQs
1. Is the walking option for the Festival only from 8am-10:45am? Do you think you'll add an afternoon option?
Due to COVID safety restrictions, we will not be adding an afternoon walk this year. We know plenty are disappointed by this limited availability, and so are we. We want everyone to tour the blooms, which is why we're offering our drive option from 11am - 6pm daily (after the walking hours).
Our drive is a fantastic opportunity to get the full garden experience with a few added benefits!
It's only $25 per vehicle as opposed to $20 per person on foot, meaning your entire family can visit for a fraction of the cost. You can take photos from the comfort of your vehicle or stop and get out. And, walking is fairly easy on our slightly-hilly mowed paths, this is also a wonderful option for those who may find it difficult. We've heard from many that our drive is just divine!
2. Will there be a designated path during the morning walking hours? Wondering what shoes to wear and how tough it is!
Mowed pathways lead the way. If you expect to have any trouble with hills, not to worry! You'll be parking at the top of a hill, allowing you to easily walk gardens along the path, and when your walking is complete, you'll see everything else by way of the drive exit.
Keep in mind our number one rule on the farm: "If you go down a row, exit from the same row. Never step over the flowers!"
Note: Morning walks are selling out quickly! We do still have some weekday availability, though, so make sure to check.
3. Can we picnic?
Yes! Simply bring your own blankets - no tables or chairs are permitted as those items distract from attendees' photos. It's a lovely place to picnic!
4. Can I book a slot to paint or take a private photo shoot?
Absolutely! For photography and painting inquiries, email Bruce Mowaday at bruce.mowdayjr@gmail.com<mailto:bruce.mowdayjr@gmail.com>. We have a private garden available for $60.00 for two hours from 8am-6pm daily. Contact Bruce to schedule.
5. Do children need tickets? Is there an age range for them? Are strollers allowed?
Children 16 and under are not required to purchase tickets - they're free! Strollers are allowed.
6. Is your event pet friendly? Can I bring my dog?
Sadly, no dogs or animals are permitted. Our peonies are a true crop being harvested for sales. Dogs tend to be very fun, active, and curious which is not good for the flowers (though certainly enjoyable for us!).
7. Can I touch the peonies?
We recommend not touching the crop unless it's simply to enjoy its fragrance.
8. What can I bring and not bring while on foot?
Not permitted:
· Large camera equipment (unless you make a photography reservation)
· Tables or chairs
· Clippers or tools for picking
· Pets
· Drugs or alcohol
Permitted:
· Cameras
· Blankets for picnics
· Food
· Strollers
· Friends and family!
9. I heard ants make it possible for peonies to bloom. Is this accurate? How do you prevent bringing ants into the house with bouquets?
This is in fact a myth! About a week before harvest, peonies stop exuding the sugar that attracts ants, and the ants disappear! After harvesting millions of peonies, we've never seen an ant in our sheds. All your peony bouquets will be ant-free.
10. Is this a rain or shine event? if a walking ticket is purchased and the weather does not agree, are we able to switch the date?
We know weather can be tricky! If it rains you come again another day and your ticket will still be valid.
11. When will the peonies be blooming so we can come at the right time? Is there a peak time during the festival? Are there less blooms towards the end?
We have over 200 varieties that will be blooming within the 16 day window from May 15th - May 31st. We time this festival just right so that you'll see blooms no matter when you arrive! If anything, you'll see more blooms towards the end of the festival, not less.
12. Is there an option to buy or cut our own peonies?
Yes, you can buy peonies! No, you may not cut or pick your own. We have freshly cut flowers in milk jug bouquets available for purchase, along with plants, Styer's Peonies t-shirts, and face masks. We accept cash or card.
Kite Surfing . Birding . Hiking . Shopping . Cuisine . Sailing  .  Fishing
Where the land meets the sea, Homer has something for everyone.